Read Time:
11 Minute, 35 Second
Do you love spending time with your horses? Do you have a riding arena but struggle to use it at night? Solar arena lights are the perfect solution for you. These eco-friendly, affordable lights may improve your arena experience. This article will explain solar arena lights, how they function, and their benefits.
We also detail how to easily install them in your arena and what to consider before buying them. We have included our best solar arena lights to help you choose.
Finally, we'll address everyone's question: Do solar arena lights work in the winter? Read on to learn about solar arena lighting.
Solar Lights
What are solar arena lights?
Solar arena lights are developed for outdoor arenas. Solar panels turn sunshine into energy, making them a sustainable and affordable lighting alternative. With IP65 weatherproofing, these lights can last in all conditions. LEDs illuminate them brightly and efficiently. Their wireless functionality and remote control make them stand out. Solar lights are the best way to improve your arena experience without electricity.
Advantages of Using Solar Arena Lights
When it comes to lighting up arenas, solar arena lights offer numerous advantages.
Significant energy savings compared to traditional electric lights.
Reduce carbon emissions, making them environmentally friendly.
Low-maintenance as they do not require wiring or frequent bulb replacements.
Ideal choice for remote areas without access to electricity.
Provide reliable lighting even during power outages or in areas with unreliable grid power.
How do solar arena lights work?
Solar arena lights use solar panels to turn sunlight into power and store it in rechargeable batteries. A built-in sensor or remote control turns them on at night. With efficient LEDs and optional motion sensors, solar arena lights provide bright illumination while conserving energy.
How to Make Your Riding Arena Better: Add Solar Arena Lights
Install solar arena lights to make your riding arena safer and more visible. These lights are affordable and eco-friendly, offering steady evening illumination. With several design possibilities, solar arena lights improve your arena's looks as well as its functionality. You can hold daytime and nighttime events in your riding arena because of the extended hours. Solar arena lights are easy to maintain and provide a well-lit, attractive setting.
Solar Lights
Making the poles
For the solar arena's light poles, stick with steel or aluminum. This will guarantee that the poles can resist outside conditions and sustain the lights for years. Additionally, make sure the poles are tall enough to illuminate the appropriate region. For pole stability, follow installation instructions for properly securing them. Finally, paint or varnish the poles to prevent rust and corrosion. These methods will help you build robust solar arena light poles.
Attaching the lights
For a safe and secure solar light connection to poles, follow the manufacturer's recommendations. Use mounting brackets or clamps to secure the lights. Take time to orient and face the lights for the best lighting. Before attaching, check the lights' functionality. Adjust the lights as needed for optimal lighting coverage.
Determining the placement of the lights
The size and shape of your riding arena should be considered while placing lights. Place lights evenly throughout the arena for homogeneous illumination. Consider any light-distribution barriers. The optimal sun angle for charging solar panels is unknown. Consult a specialist if you're uncertain about the ideal arena positioning.
Attaching the solar panels
Apply the solar panels according to the manufacturer's instructions. Position panels at the best angle to maximize sunlight. Secure mounting brackets or clamps to avoid damage or movement. Clean panels regularly to eliminate dirt and debris that may decrease charging effectiveness. Finally, verify the panel-light connection to confirm appropriate operation. Follow these steps to properly install the solar panels for your arena's lights.
Connecting the solar panel to the light
Follow the manufacturer's instructions to attach the solar panel to the light. Use the supplied connectors or cables to connect securely. Keep connections tight and corrosion-free. Check the connection to see whether the solar panel powers the light. Check and maintain the connection for consistent performance. Follow these instructions to connect the solar panel to the light and improve your arena experience.
Controlling the lights with a handheld device
You can easily improve your arena experience with the solar arena lights' remote control. To save time and effort, you can switch on the lights remotely. You can maximize your illumination by altering it. Relax and let your arena naturally generate the appropriate atmosphere without human intervention. The best solar arena lights can make your arena stand out even during the day.
Solar Lights
What are the advantages of using solar arena lights?
Advantages of using solar arena lights include eco-friendliness, cost savings on electricity, wireless installation, reliable lighting during power outages, and improved safety. Enjoy a well-lit arena while minimizing environmental impact.
Do solar arena lights work in the winter?
Solar arena lights can still function effectively during the winter season. While their performance may vary depending on weather conditions, they can still provide illumination. To optimize charging efficiency, clear snow or debris from the solar panels. Choose lights with higher lumens and robust features for better winter performance. Enjoy the benefits of solar arena lights year-round.
Key Factors to Consider Before Investing in Solar Arena Lights
When buying solar arena lights, consider various variables. First, establish your arena's brightness and pick lights with the proper lumens. To guarantee the solar panels can power the lights, check their size and wattage. The manufacturer's warranty and lamp lifetime should also be considered. Look for lights with remote controls and motion detectors for convenience. Finally, consider your arena's weather and pick lighting accordingly.
Light coverage and brightness
Light coverage and brightness are important when choosing solar arena lights to improve your arena experience. Choose high-lumen solar lights for the best coverage. Maximum lumens improve arena visibility. Adjust the light color temperature to create the appropriate atmosphere. Motion sensors and remote controls make lighting systems more convenient. Remember that solar panel wattage and LED quality determine light brightness and performance.
Material and quality
Solar arena lights built of sturdy materials endure longer. Look for waterproof lights that operate year-round. Also, select lights with warranties for extra peace of mind. Solar lights with high-quality panels charge efficiently throughout the day. Choose LED lights for energy efficiency and brilliant lighting. Prioritizing material and quality may improve your arena experience with the best solar arena lighting.
Ease of installation and weatherproofing
Solar arena lights must be easy to install. Look for lights that can be installed without complicated wiring. Make sure the lights have simple installation instructions. To resist outside circumstances, lights must be weatherproofed. Choose sturdy, weatherproof lighting that can resist extreme weather. Adjustable mounting allows you to set the lights anywhere required during installation. You may easily improve your arena experience with these options.
Solar Lights
Top Picks for Solar Arena Lights
Looking for the best solar arena lights? Consider these top picks to enhance your arena experience.
AmeriTop Solar Power Arena Lights
AmeriTop's solar arena lights are brilliant and flexible. AmeriTop's solar-powered arena lights improve your experience. Strong and efficient, these lights brighten the arena. Designed for the weather, they last a long time. Easy light settings with a remote control AmeriTop solar-powered arena lights enhance your arena experience with sustainable lighting. Find high-quality, efficient solar arena lights for amazing illumination.
Aootek Solar Outdoor Lights
You can improve your arena experience with Aootek solar outdoor lighting. These arena-specific, waterproof lights are dependable. With a built-in motion sensor, they switch on and illuminate brightly when moved. Adjust the brightness to your liking. No wiring makes these affordable, energy-efficient lights simple to install in your arena.
Aootek solar outdoor lights provide 2500 lumens, selectable settings, and IP65 waterproofing.
Tenkoo solar-powered lights for the arena
Tenkoo solar-powered lights, with 30,000 lumens, illuminate large venues. Tenkoo solar-powered lights improve the arena experience. High-capacity batteries power these lights for long-lasting illumination. They're waterproof; they're durable. They have powerful LEDs for excellent brightness. Easy installation and a one-year guarantee ensure client pleasure. Solar-powered TENKOO lights enliven your arena while conserving electricity and decreasing your carbon footprint. Get the finest solar arena lights.
Richarm Outdoor Solar Flood Lights
Enhance your arena experience with Richarm outdoor solar flood lights. These powerful lights provide high lumen output and adjustable brightness levels, ensuring optimal visibility. Installation is a breeze, as they can be easily mounted on poles or walls. With their durable design, Richarm outdoor solar flood lights are built to withstand harsh weather conditions, making them perfect for any outdoor arena. Not only do they offer powerful illumination, but they also provide a cost-effective lighting solution. Don't miss out on the opportunity to enhance your arena with the best solar arena lights available.
Are solar arena lights effective during the winter?
Solar arena lights can still be effective during the winter with proper care and maintenance. Ensure clean solar panels, position lights in sun-exposed areas, opt for higher-wattage lights, and monitor battery levels for optimal performance.
Solar Lights
Charging the batteries
Charge your solar arena lights' batteries to keep them ready to glow. Charge your batteries periodically to improve light performance and guarantee they're ready when you need them. To maximize charging efficiency, expose the solar panel to sunlight all day. Avoid impediments that might slow charging. Using solar energy will charge your lights and keep them bright.
Solar Goes Green Arena Flood Lights
Solar Goes Green provides high-quality solar-powered arena floodlights. Illuminate your entire arena with their bright and efficient lights. These flood lights are durable and reliable, ensuring long-term performance. Solar Goes Green products also have a 1-year guarantee for peace of mind. When it comes to solar arena lighting solutions, Solar Goes Green is the best choice. Their lights can enhance your arena experience and provide a sustainable lighting solution. Choose Solar Goes Green for the best solar arena lights on the market.
FAQ
How many lumens do I need for a riding arena?
To determine the number of lumens needed for a riding arena, consider its size. Indoor arenas need 50 lumens per square foot, whereas outdoor arenas need 20–30. Lighting must be evenly distributed across the arena. Consulting an expert can help determine the appropriate number and placement of solar arena lights.
How tall should arena lights be?
Arena lights should be mounted at a minimum height of 30 feet. For optimum performance, the ideal height is between 50 and 60 feet. This helps to minimize shadows and glare, providing uniform lighting across the playing surface. It's important to consider the size and type of the arena when determining the perfect height for your lights. Consulting a professional electrician or lighting designer can ensure accurate placement.
How much does arena lighting cost?
The size and kind of arena lights affect their cost. Energy-efficient LED lights cost more initially but save money over time. Budget for installation and upkeep. Professional lighting consultants can evaluate costs accurately.
How much do stadium lights cost to run?
The kind, power, and duration of stadium lights affect their cost. LEDs are cost-effective and energy-efficient, with annual lighting expenses for stadiums ranging from $20,000 to $50,000. Light bulb replacement and maintenance can help reduce utility bills.
What are solar arena lights?
Solar Arena Lights are lighting fixtures that utilize solar energy to power their lights. These lights are specifically designed for outdoor arenas like horse riding arenas or sports fields. They are sustainable and cost-effective. Maintenance and installation are simple.
READ ALSO: Solar Lights Not Working! Here Are Some Simple Solar Light Replacement Solutions:
How to Choose the Best Solar Arena Lights?
When selecting solar arena lights, prioritize high-quality, durable materials that can withstand various weather conditions. Consider the brightness and coverage area to ensure adequate illumination. Look for adjustable settings for brightness and timing that cater to your specific needs. Opt for reputable brands with positive customer reviews and warranty options.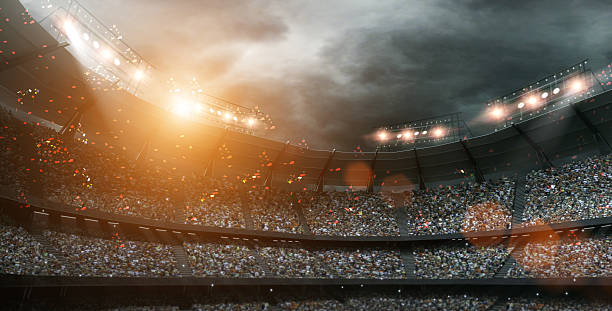 Solar Lights
What Are the Benefits of LED Horse Arena Lights or Roping Arena Lights?
LED horse arena lights or roping arena lights provide bright and consistent illumination with a longer lifespan than traditional options. They are energy-efficient, saving up to 80% on electricity bills, and their directional nature reduces light pollution and glare for a better experience.
How many LED horse arena lights do I need for a horse or riding arena?
To determine the number of LED horse arena lights needed for a horse or riding arena, consider the size of the area. As a general guideline, aim for one light per 20 feet of arena width. For example, a 100×200-foot arena would require around 50 LED horse arena lights. Consulting with a lighting professional ensures proper coverage and illumination.
In conclusion, solar arena lights are a game-changer when it comes to enhancing your arena experience. Not only do they provide bright and efficient lighting for your riding arena, but they also offer numerous advantages such as energy efficiency, cost savings, and environmental friendliness. With easy installation and weatherproofing, you can create a well-lit and safe space for both riders and horses.
When considering solar arena lights, keep in mind factors like light coverage, brightness, material quality, and ease of installation. We have curated a list of our top picks for solar arena lights to help you make an informed decision.
Don't let the winter season deter you, as solar arena lights are designed to work effectively all year. So go ahead and enhance your arena experience with the power of solar lights.
READ ALSO: Solar Signal Light: How Does The Solar Traffic Signal Blinker Work?
Author Info